Unveiling Prime's New Horizon in Lisbon's Alvalade District
We are thrilled to introduce a new chapter in the Prime School International journey – our brand-new campus in the heart of Lisbon's Alvalade district. This exciting addition reflects our unwavering commitment to providing an exceptional educational experience that transcends boundaries.
Nestled within this vibrant and dynamic locale, our new campus is poised to redefine learning. Alvalade's charm and energy create a backdrop that is both inspiring and invigorating. Here, history intertwines with modernity, and culture melds seamlessly with innovation. This prime location not only enhances academic pursuits but also enriches the overall student experience.
Mark your calendars for a momentous date: 18th September 2023. This is when our doors will swing open, welcoming students, parents, and the community to embark on a transformative educational journey. With a covered area of 3000m² and an expansive 2500m² open-air space, the possibilities are boundless. The inaugural phase introduces 25 thoughtfully designed rooms, each serving as a space for growth, discovery, and collaboration.
Our new campus is more than just rooms; it's a realm of exploration. Cutting-edge laboratories will ignite scientific curiosity, while innovative teaching spaces will nurture creativity and critical thinking. But that's just the beginning. As we look ahead, the second phase, slated for the following year, will unfold with an additional 30 rooms, a swimming pool for fitness and leisure, an amphitheatre for engaging presentations, and much more. This holistic approach ensures that students' minds, bodies, and spirits find nourishment within these walls.
The future of education is here, and it's rooted in Lisbon's Alvalade district. Join us as we embark on this exciting journey together. September 18th, 2023, marks not only an inauguration but also a celebration of limitless potential. Get ready to explore, learn, and flourish in our new campus – where every corner is an invitation to grow, and every day is an opportunity to shine.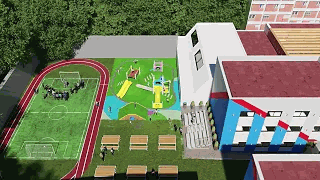 3D Tour (opening 18 Sep 2023)